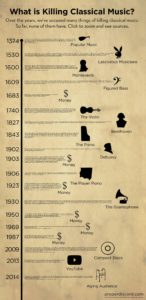 Classical Music and Me
Hi Everyone,
Today, while browsing my Facebook feed, I came across the picture above from Classic FM.  As a classical musician, I find it to be quite insightful and hilarious! This picture shows that the lifespan of classical music has been threatened again and again throughout history, and yet still remains relevant to musicians.
The picture quotes that a variety of factors, including certain composers, money, YouTube, and an aging audience,has been accused of killing classical music since 1324.  Yet, classical music continues to survive.
While I am not a music historian, I can vouch for what classical music has taught me.
It taught me how to say the same thing in different ways.

Much of classical music is written down, and musicians are expected to perform from the score with the correct notes and rhythm. How the musicians interpret this blueprint, is the art of classical music. No performer would perform the same piece the exact same way.

It taught me about emotions. 

Although I am an avid listener to current music such as pop, RnB, and techno, there are not a lot of music that makes me feel the wonder of Claire de Lune, or the sadness from Beethoven's Moonlight Sonata. By exploring classical music, we explore ourselves and our emotions.

It taught me how to commit.

Not only can advanced pieces be incredibly difficult and time consuming to learn, classical performers must commit 100% to the feelings of a piece to perform it. Classical music asks for both technical precision, and sensitive musicality.
The list can go on and on. The complexity of classical music, is what categorizes it as a fine art. To be a committed classical musician, we must be committed to up keeping our technical abilities, respecting the history of the pieces, understanding the music theory, and using our musicality to translate all our work to the audience.