ERIC NG (B.Mus, A.R.C.T, ABRSM certified, ECE assistant)  is a freelance pianist, private piano teacher, and composer based in Victoria, B.C.  Raised in Vancouver,  Eric began his music education at the age of 7.  Studying classical piano under Peggy Yip of Peggy Yip Piano Studio, Eric earned his Diploma of Associate of The Royal Conservatory of Music (A.R.C.T of RCM) in piano performance in 2008, at the age of 16.  During his time under the tutelage of Peggy Yip, Eric competed and placed in several local competitions, such as the Kiwanis Festival and Burnaby Clef. He also consistently received grades of distinction or first class honors in his exams in the Royal Conservatory curriculum leading up to his A.R.C.T diploma.
In 2009, Eric furthered his education by earning his grade 8 Piano diploma from the ABRSM curriculum. Upon graduating from Peggy Yip Piano Studio, Eric began working as a teaching assistant under the guidance of Peggy herself, teaching children from the ages of 6-13 technique and ear training skills from the Royal Conservatory curriculum to supplement their piano lessons. Around this time, Eric dabbled in songwriting, learned how to play the guitar and ukulele, and performed at local gigs, festivals and charity events.
After high school, Eric pursued higher music education at the University of Victoria, in the city which became where he calls home for 6 years. In 2015, He completed his Bachelors of Music degree under the tutelage of May Ling Kwok. During this time, he found his love for collaborative piano while working with woodwind, string, brass and voice peers. Other musical ventures during this time include work with Spirit Rising Community Choir, where Eric served as a technician, coordinator, singer, occasional director and accompanist. His original choral composition "Been Here Before", was premiered by Spirit Rising Community choir at their year end concert in 2015. While he continued to give piano lessons and do accompanying work during the course of his degree, his dedication to his program earned him a note of Distinction in his degree, signalling that he finished in the top 10 percent of the graduating class.
A true believer in music, Eric's enthusiasm, patience and musicality has been noted by several clients. In the span of his career, he has worked with students from the age of 2 – 65 and believes there are no boundaries to music education. His passion for teaching stems from the positive aspects he sees from music education. With piano lessons, Eric believes he can give students tools to speak their emotions, discipline to overcome obstacles, and a happiness that only artistic freedom can bring.  He looks forward to continuing to contribute to the music community of Victoria.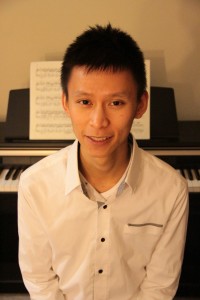 Learn More about Eric's Piano Lessons Here