After a couple of sessions of working on the Mozart Sonata ( and now having my practice plan in place ), I decided to take a detour into popular music in C major listening. I started by googling the top 10 popular songs in C major.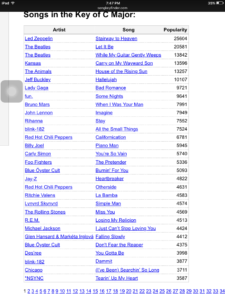 Initial Reactions:
I felt a very strong A minor presence in many of these tunes
Many of the songs borrowed chords outside of C major and A minor
F major (subdominant) was used commonly in prechoruses and bridges – It can be used to create a pushing and escalating feeling
Use of A minor creates emphasis – sometimes dramatic, sometimes powerful, sometimes emotional
Lots of step wise motions in harmonies
A variety of moods were created by C major (Dance-like, sadness, hopefulness..)
In this particular playlist, the use of piano is significant in many of these songs.
Questions:
How do we differentiate a pop tune from a major key and it's relative minor key?
Do pop artists consider key when they write songs or is it based on vocal range?
What will transcribing the bass line reveal about the harmony?
Popular Music in C major Listening
Take Piano Lessons with Eric Here