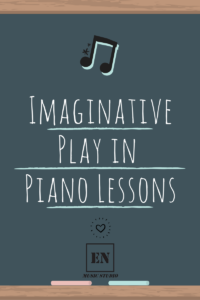 What is Imaginative Play?
Imaginative play, or pretend play, involves the child role playing situations that they have seen before. By doing this, they experiment with behaviours, problem solving, and empathy. For example, a child might pretend play to be the parent of their teddy bear, and has to deal with topics like feeding the bear and cleaning the bear. There has been substantial evidence of increased intellectual and emotional development through this method of learning.
Can We Have Imaginative Play in Piano Lessons?
Andrea from Teach Piano Today has advocated for the use of imaginative play in piano lessons. By introducing music knowledge in themes that kids are familiar with, they are more comfortable in asking questions. Andrea also notes that there should be a balance between imaginative play lessons, or "traditional" piano lessons; instead of building a curriculum on pretend play, piano teachers can strive to incorporate this kind of play once in a while to add excitement and variety.
Bridging the Gap
Serious music education can be very daunting for young kids. Quarter notes? Half notes? Pivot? Allegro? All of this with the challenge of coordinating their fingers.  For students who are beginners, it may feel like every concept introduced is impossible to understand. This is where imaginative play comes into play (no pun intended). While children may not understand (yet) why a strong solid tone would build their technique, they absolutely do understand that if they will fall if they do not grip on to the monkey bars tightly. While children may not understand rhythm is the blueprint of music, they absolutely do understand when someone is talking too fast for them to understand.  By using imaginative play, we let the children know that same knowledge they are learning everywhere else is applicable to music, so it is not so scary!
---