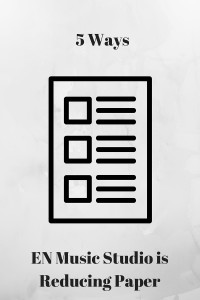 For 2016, I am aiming to reduce paper usage for EN Music Studio; even as a small business, I find myself swimming in paper invoices, receipts, and copies of policies and signatures. While the look of producing paperwork for clients is classic, the time it takes to create and print these documents, and create a system to keep track of everything is both time-consuming and inefficient. Even at my most organized, I found myself digging through boxes for a specific page of a document. Although I do love using pencil and paper while having piano lessons, it's time to get with the technology wave!
In 2016, I plan to:
Digitize all my documents and business receipts

No more bent corners and crumpled papers!

Organize my documents into clearly labelled digital folders for easy access.
Transfer to a digital invoicing and receipt system.

Parents will enjoy an easier system of keeping track of invoices!

Begin reading music from my iPad (I downloaded this great score reading app forScore!)

Make use of apps for teaching (for rhythm studies, ear training/aural skills, composition)
This way, I save time from searching for paperwork, organizing it, and fighting with the printer. While I will still likely to teach students to read music off a page, I also want to teach them to read from a tablet screen. I do not believe the entire industry switch to paper-free is very far away! Piano is a timeless art, but I want my method of teaching piano lessons to always remain current and relevant to the students
---